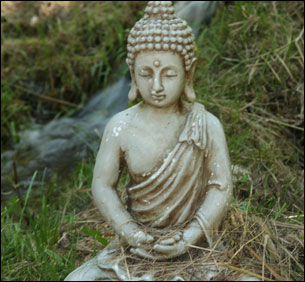 September 23rd - 24th, 2017

Thriving Through Transition with Presence: A Weekend Retreat of Mindful Drumming, Photography and Meditation

Saturday, September 23rd, 2017 - 10:00 a.m. - 5:00 p.m.
Sunday, September 24th, 2017 - 10:00 a.m. - 4:00 p.m.

This retreat offers innovative tools to thrive through change. Together we will explore mindful drumming, photography and meditation to see life from different perspectives and to cultivate presence, resiliency and self-compassion. With presence and self-compassion we can learn to develop greater trust in our ability to move through challenging transitions with greater ease, while feeling energized, calm, and centered. Drumming increases vitality, connection, wellbeing and enhances positive relationships. Photography, practiced as mindful seeing, promotes attention regulation, perception of new perspectives and flexible responsiveness to ourselves and to others. This retreat takes place in the magical beaver valley, where the beauty of nature can support our cultivation of presence, connection, and wellbeing.

IDEAL FOR PEOPLE AT A BEGINNER OR EXPERIENCED LEVEL OF PRACTICE WITH MEDITATION, DRUMMING OR PHOTOGRAPHY

Where: Beaver Valley in Grey Highlands - Northeast of Flesherton
Facilitator: Dr. Shari Geller
Early Registation Fee: $400, if received by August 25th, 2017
Registration Fee: $450, if received after August 25th 2017


Or email completed registration form and etransfer registration fee to:
Camilla@sharigeller.ca
Download Registration form HERE

For more information please contact Camilla@sharigeller.ca



October 18th, November 8th & December 6th, 2017

Cultivating Presence: Graduate Class for TRM

October 18th, November 8th & December 6th, 2017
Wednesday Evenings 7:30 - 9:30 p.m.

• Reinvigorate with Therapeutic Rhythm & Mindfulness
• Deepen practices to strengthen presence with self, clients, students and others
• Boost vitality, connection and joy
Being fully present activates harmony and integration in our body, brain and relationships. Presence also enhances our health, wellbeing, and relationships. These graduate classes for past TRM Workshop participants provide an opportunity to reinvigorate with the Therapeutic Rhythm and Mindfulness (TRM™) program. Together we will play with rhythm and practice mindfulness as a path to deepening presence and integration. A deeper dive into practices to cultivate presence, attuning to the moment and relating while feeling energized, calm, and centered. With self-care comes an enhanced energy and capacity to feel connected with and to care compassionately for others.
Where: Centre for MindBody Health (CMBH)
250 Eglinton Avenue West, Suite 200
Facilitator: Dr. Shari Geller
Fee: $225 if registered by Sept. 29th, 2017
$260 if registered after Sept. 29th, 2017

Download Registration form HERE
Email completed registration form and etransfer registration fee to: Camilla@sharigeller.ca
For more information please email Camilla@sharigeller.ca
November 27th, 2017

The 8th Annual Healing & Treating Trauma, Addictions, and Related Disorders Conference
Keynote and Workshop: Strengthening your Clinical Practice in Working with Trauma: Cultivating Therapeutic Presence

Monday Nov. 27th, 2017



Therapeutic presence (TP) is the foundation for positive therapeutic relationships and effective therapy.  Twenty years of research on the art and science of TP has led to a model that provides the groundwork for accessing presence in the moment.  TP involves therapists using their whole self to be both fully engaged and receptively attuned in the moment, with and for the client, to promote safety and effective therapy.  TP provides a neurophysiological experience of safety and security for trauma survivors, that allows them to feel heard, understood, seen and felt.


To be most helpful to trauma survivors, therapists need to simultaneously be grounded and present in the moment while attuning to clients' moment-to-moment experience. This activates a neurophysiological experience of safety, supporting clients to engage in optimal and effective therapeutic work. Further it serves to help therapists to remain centered in the face of difficult emotions while offering a therapeutic intervention that is precisely timed to the readiness of their clients. This type of relationship with the therapist provides a powerful buffer to the client's trauma response through the
co-regulation of affect. The skillful cultivation of presence also helps therapists to sustain a level of vitality, connection, and effectiveness and supports movement towards emotional health and neurophysiological integration for both clients and therapists.

In this workshop we will learn about an empirically validated model of TP as a map to build and strengthen the skills of presence with clients. We will also explore the neurophysiological principles to creating safety with therapeutic presence, based on concepts such as co-regulation and neuroception of safety stemming from the polyvagal theory (Geller & Porges, 2014). Evidenced based practices from Dr. Geller's book, A Practical Guide for Cultivating Therapeutic Presence, such as mindfulness, musical rhythm, imagery and experiential/creative practices will be incorporated.   We will also discuss challenges to TP and how to stay open and engaged when working with challenging clients.  There will be a number of take home practice for cultivating presence for your clients, your students, trainees, and for yourself.


Where: Calgary, Alberta
Presenter: Dr. Shari Geller



To register and for more information click HERE

KEEP THE DATE: May 11th & 12th, 2018

Presence and Self-Compassion in Psychotherapy:
A Foundational Approach for Therapists and Clients

Friday, May 11th, 2018
Saturday, May 12th, 2018

Presenters: Dr. Shari Geller and Dr. Christopher Germer


MORE INFORMATION AND REGISTRATION COMING SOON!

NEW DATES: May 22nd - May 25th, 2018
Therapeutic Rhythm and Mindfulness (TRM™) Professional Facilitator Training Program

The TRM™ facilitator training is launching in partnership with The University of Toronto School of Continuing Studies May 2018!




Therapeutic Rhythm and Mindfulness (TRM™) is an innovative program that integrates evidence-based treatments of group drumming, mindfulness, and emotional reflection in a positive and safe group atmosphere. TRM™ is designed to enhance vitality, joy and well-being, social connectedness and mindful awareness, and reduce anxiety, depression, and fatigue.

TRM™ workshops are applicable to a wide population of participants: health care professionals both for cultivating presence and for self care, educators, parents, team-building for corporate groups and anyone interested in cultivating presence in their professional and/or personal lives and relationships.

This Therapeutic Rhythm and Mindfulness Profession Facilitator Training is offered as a four day training. The first full-day core module introduces the foundational tools of TRM™, including therapeutic presence, mindfulness, and rhythm instruments. The second three-day module is focused on intensive training in effective facilitation and the TRM™ protocol.

What You'll Learn:
• Learn an emperically validated model of therapeutic presence and theory ofrelationship
• Neuro-underpinnings of therapeutic presence, establishing safety in group facilitation
• Understand foundational practices of TRM™
• Experience personal instruction on meditation, rhythm instruments, and the basis of effective group facilitation, including cultivating therapeutic presence
• Cultivate skills in effective facilitation and the TRM™ protocol.
• Each participant will receive an extensive and detailed manual outlining the principles and protocol of the TRM™ program.
• Integrate and build experience by facilitating a TRM™ group in your community with consultation

Where: The University of Toronto
St. George Campus
Facilitator: Dr. Shari Geller

To register and for more information click HERE